MUSIC Matters is one of the most unique student-run organizations on campus. In an effort to grow our impact and membership development, we have built a strong network of mentors. Our Board of Advisors is made up of University of Michigan alumni, and help provide our student members with professional guidance.
Mike, a former Industrial Engineer, is the co-founder of Muse Recordings; a celebrated record label with a reputation of quality and innovation. In addition to running Muse Recordings, Mike can be heard as a guest commentator on the business of music, pop culture, and politics at the highest rated urban radio stations in the country. He is a guest lecturer on various topics dealing with the business of music and politics at various colleges around the country. In addition, he has been VH1 Pop-Culture/Political Expert, a BET on air "Word" commentator, a BET "Year End Review" commentator, and a NBC News Industry Expert. Mike was bestowed the honor of being the youngest person ever selected for the 100 Black Men of America Achievement Award. He served as member of President Barack Obama's tri-state area finance committee and was a fundraiser for the Presidential Inaugural Committee for President Obama. In addition, Mike was appointed as a member of the National Finance Committee and National Advisory Board for the Democratic National Committee, Mayor Cory Booker (Newark, NJ) Re-election Host Committee Co-Chair, and served the Mayor of New York, Michael Bloomberg's campaign committee.
Gary Gersh is the President of Global Talent at AEG Live. Gersh most recently served as CEO of The Artist Organization (TAO) management firm. As TAO's Founder, Gersh built a diverse portfolio of artists and businesses including Soundgarden, John Legend, Lenny Kravitz, and Counting Crows. Early in his career, Gersh helped to build what became a chain of thirty record stores called, Licorice Pizza. After the chain was sold, he went to work at Capitol Records in Promotions. He then helped to start EMI America Records where he signed/worked with David Bowie, Stray Cats, John Waite, and many other acts. From there, he was a founding partner of Geffen Records where he signed numerous successful acts including Nirvana.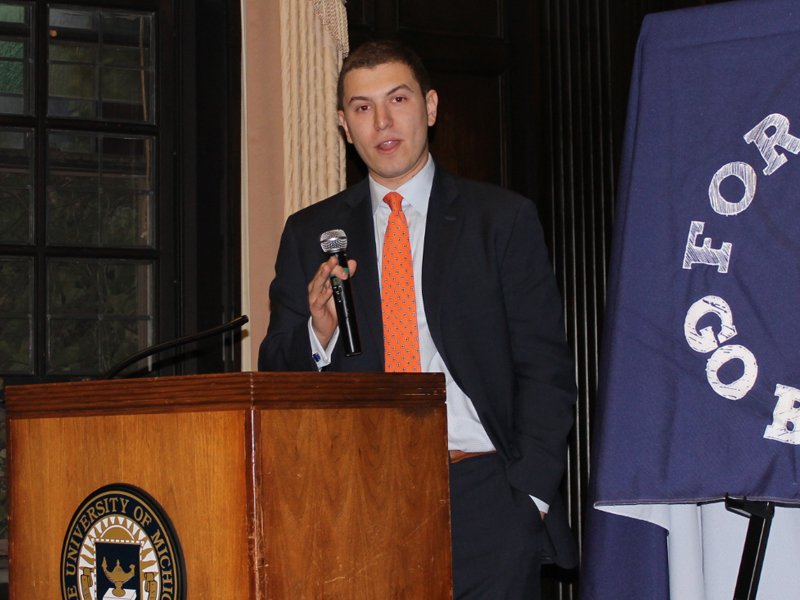 Phillip Schermer is the Founder of MUSIC Matters and a recent graduate from the University of Michigan's Honors Program. Phil is a former White House intern who worked for the National Economic. Earlier in college, he worked on the sets of The Dark Knight Rises, Perks of Being a Wallflower, and for Live Nation on U2's tour.
Today, he works at BlackRock as an Analyst on the Brand Strategy team, where he works on firm-wide strategic initiatives related to BlackRock's shift in focus to the retail market.
Four years ago, Phil founded MUSIC Matters and went on to lead the organization as it grew from 10 students to 200+ students, raising over $300,000 in investments in MUSIC Matters, hosting the largest concerts at the University of Michigan and building the first multi-disciplinary festival (SpringFest) of its kind in University of Michigan history. In addition to his role as a member of the MUSIC Matters Board of Directors, Phil is also a member of the LSA Dean's Young Alumni Council, providing strategic counsel and fundraising support to the LSA Dean.
Peggy Burns is the Senior Vice President for Philanthropy for the Henry Ford Health System. She joined Henry Ford in November of 2014. Peggy and her Philanthropy team focus on telling stories that share the power of health care and engage donors in partnerships to advance research innovation, to improve the human condition and to positively transform lives.
Music industry veteran and professional musician, Scott began his career as an accountant in the music business. First at Ernst & Young, followed by Atlantic Records and Provident Financial Management. As the VP of Finance for WEA, the music distribution division of Warner Music Group, Scott played a key role in helping WEA/WMG transform itself from a physical to digital music company. In 2004 Scott shifted his focus from the music industry to the advertising business and held the role of CFO at three different agencies. In January 2017, Scott launched HeydtAir to bring all of this experience to help companies large and small to achieve their long term operational and financial goals.
Phil Deloria is the Carroll Smith-Rosenberg Collegiate Professor of American Culture and History, former LSA Associate Dean of Undergraduate Education, and past Director of the Program in American Culture and the AC Native American Studies program. He has served as president of the American Studies Association, a council member of the Organization of American Historians, and a Trustee of the Smithsonian National Museum of the American Indian. He holds a joint appointment in the Department of American Culture and the Department of History at the University of Michigan.
Sherrie Sage Schwartz is the Chief Human Resources Officer at leading entertainment and sports agency Creative Artists Agency (CAA). Based in Los Angeles, Schwartz leads the agency's people efforts on a global scale.
Prior to joining CAA in February 2015, Schwartz was the Senior Vice President of Human Resources for Activision Publishing, a division of Activision Blizzard. She has held prior executive HR posts at Levi Strauss & Co., Parke-Davis/Warner-Lambert Company, and Kraft Foods.
Schwartz completed her undergraduate degree at the University of Michigan, and received her MBA from the University of Illinois.
In his role as Vice President at MediaLink, Jason Schulweis brings a decade of experience in developing integrated event and media marketing programs for major advertising agencies and brands. Focusing on the industry marketing discipline, Jason provides clients with a focused mix of advisory, visibility, business acceleration and innovation strategies, drawing on his broad industry expertise and network across the agency, publisher and entertainment worlds.
Schulweis joined MediaLink from Live Nation Entertainment, where he was a vice president for the marketing solutions group, leading a team responsible for driving revenue and creating innovative ideas and campaigns for its largest clients and categories. Prior to Live Nation, Schulweis led sales marketing and advertiser solutions teams at Thrillist Media Group, and before that he worked several years at Yahoo! and at the digital agency Deep Focus.
Jason holds a B.A. in Psychology and Political Science from the University of Michigan, and will happily talk at length about live music, digital media trends, new restaurants, golf and Michigan sports.
Dave Bartlebaugh is the V.P. of Aerial Enterprises, a sound reinforcement and production company based in the Greater Detroit Area. Dave was introduced to MUSIC Matters in 2012 and has since served as the Production Manager for SpringFest, leading both the afternoon festival and evening concert production.
Dave began working in the music industry right out of college in 1971, initially as an audio engineer and production manager for New Heavenly Blue. After signing with RCA in 1972, they released their first album "Education Homegrown." In 1974, Dave began managing "Sky King"
who was signed to CBS records in November of 1974. Their first album, entitled "Secret Sauce," was released in February of 1975.
From 1974 through present, Dave has served as V.P. of Aerial Enterprises, with whom he toured extensively from 1974-2003. Among others, they have toured with Santana, AC/DC, Foreigner, Cheap Trick, Grand Funk Railroad, The Time, Chic, Kool and the Gang, and Eddie Money.
Between 1982-2015, Dave was the Production Manager of Detroit Jazz Festival, the world's largest free jazz festival. Since 2015, Dave has been semi-retired. He is currently working on some selective projects that interest him, including a festival in Cuba.